Supply, Installation, Erection and Commissioning of Electrical infrastructure up to 33 kV.
Supply installation and managing greenfield LED street lighting operation in multiple Districts and urban local bodies, using cloud-based monitoring technologies.
Supporting DISCOM to collect, monitor and analysis the data and support for better management to reduce the distribution loss.
Managing Electrical Distribution Network for the Distribution Companies.
---
M/s. AKANKSHA,
Entered into distribution management. Successfully managed Input-based Franchisee operation of a Rural distribution Sub-division in NESCO, Odisha from 2010 till September 2021, having reduced AT&C losses by 66% with a consumer base of approximately 45,000. The company adopted the best practices in the Electricity distribution management, adopting IT Techniques and tools in Meter-reading, Spot Billing, Performance monitoring, MIS and Energy Audit etc. For this meritorious performance the company was awarded with the "NATIONAL AWARD".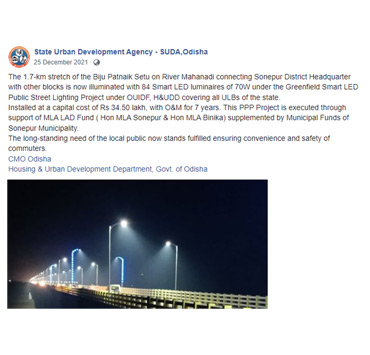 M/s. AKANKSHA,
Executed green field street light project in 13 districts of Odisha for 33 ULBs and completed the project in time. Using our highly efficient lights and Cloud-based monitoring system, managing this for the next 8 years.